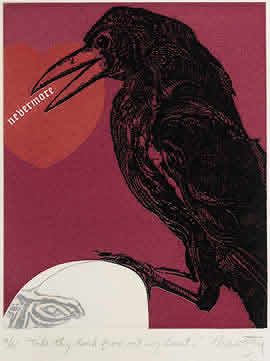 Click on the image for a more detailed view.
Norman Narotzky
¿Quita el pico de mi pecho...
, 1993
Etching in 4 colors
Image format: 25 x 20 cm
Paper: Velin Arches 46 x 37,5 cm
Edition of 15 numbered and signed works
Order number: 4721
Normal price:
430,00 €
Special price for memberships:
Quote A:
408,50 €

( save 5% )

Quote B:
387,00 €

( save 10% )

Quote C:
344,00 €

( save 20% )

All prices include taxes
About this work:
This is an extraordinary homage to the legendary North American writer, Edgar Allan Poe (1809 - 1849): inspired by Poe's famous poem The Raven, Norman Narotzky (BrookNew York, 1928) has created a series of etchings to accompany the original English text. The poem consists of the chilling and enigmatic soliloquy - or perhaps dialogue - between a creature that has lost his beloved Leonor and the Raven who comes to his room and answers all his questions with the mysterious and troubling word &#171nevermore&#187.

Narotzky's engravings depict the significant moments in these moving verses. In various of his powerful etchings, the key word &#171nevermore&#187, repeated almost obsessively throughout the text, is integrated into the image. On occasions the word even becomes the protagonist of the engraving. The images that Narotzky creates depict the contents of the poem, and reflect the mastery of a painter-engraver of classical stature. His mastery of technique, his subtlety and ability to capture the mystery of the text terrify and fascinate the viewer. The omnipresence of the raven, with its troubling gaze, as well as the obsessive repetition of the word &#171nevermore&#187 create an almost intolerable tension.