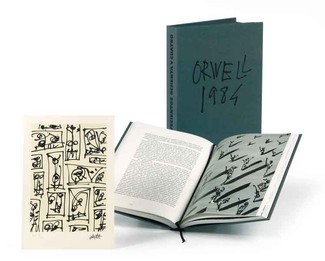 Click on the image for a more detailed view.
George Orwell
1984 (edic. bibliof.)
, 1998
Image format: 26 x 17,5 cm
Edition of 300 numbered and signed works
Order number: 41089
Normal price:
175,00 €
Special price for memberships:
Quote A:
166,25 €

( save 5% )

Quote B:
157,50 €

( save 10% )

Quote C:
140,00 €

( save 20% )

All prices include taxes
About this work:
Using images which are as powerful as they are disquieting, Antonio Saura recreates the anguished atmosphere of the super-state imagined by George Orwell in his legendary novel 1984. The menacing omnipresence of the state's main symbol, Big Brother, the heartless vigilance established to maintain the monstrous power of the state machinery, and also the rebellion, ultimately in vain, of its protagonist Winston Smith all fall under the scrutiny of Antonio Saura's perceptive gaze and tireless paintbrush. Like Orwell's original text, Saura's illustrations are a cry against totalitarian oppression and alienation in modern life. The book is presented in an elegant case covered in cloth, and is accompanied by an original screen print, chosen by the artist himself from the drawings in &#171Saurografía&#187, and posthumously authenticated by his Estate.

The book: with 24 illustrations by Antonio Saura. Binding: Iris cloth with stamping on spine and front cover. 26 x 17,5 cm. 304 pages. Edition of 300 numbered copies.

The case: Lined with Iris cloth with stamping on spine and front.

The print: silkscreen in 2 colours for the illustrated edition of 1984 by Antonio Saura. 20 x 14 cm. Edition of 300 copies numbered and authenticated by the Estate of Antonio Saura.



Other Artworks by Orwell: