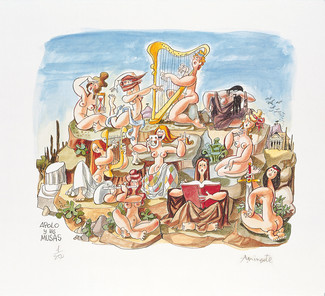 Click on the image for a more detailed view.
Antonio Mingote
Apolo y las musas
, 2002
Lithograph in 8 colors
Image format: 47 x 52 cm
Paper: BFK Rives 47 x 52 cm
Edition of 250 numbered and signed works
Order number: 10777
Normal price:
250,00 €
Special price for memberships:
Quote A:
237,50 €

( save 5% )

Quote B:
225,00 €

( save 10% )

Quote C:
200,00 €

( save 20% )

All prices include taxes
About this work:
Mingote is, above all, a wise and very humane artist. His drawings are the truthful reflection of a disposition characterized by tolerance and comprehension towards the others, by the ability to doubt of everything and not to hurt anyone, and above all by humility, which in his case encompasses great culture and intelligence. As he himself once said: &#171I am a draughtsman, only a draughtsman; not an intellectual or anything of the sort. I make symbolic drawings which sometimes are tinted with humour, some other times with tenderness, melancholy, indignation or social critique&#187. An example of this is this magnificent and charming lithograph entitled Apolo y las musas (Apollo and the Muses).


Other Artworks by Mingote: