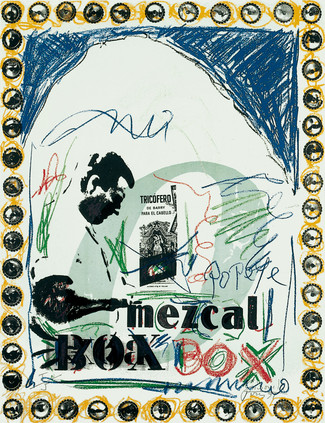 Click on the image for a more detailed view.
Alberto Gironella
Bajo el volcán, nº 9
, 1991
Lithograph in 6 colors
Image format: 65 x 50 cm
Paper: Arches 65 x 50 cm
Edition of 100 numbered and signed works
Order number: 356
Normal price:
380,00 €
Special price for memberships:
Quote A:
361,00 €

( save 5% )

Quote B:
342,00 €

( save 10% )

Quote C:
304,00 €

( save 20% )

All prices include taxes
About this work:
For Octavio Paz, Gironella's pictorial uniqueness lies in the interaction between word and image, an opinion he shares with another great compatriot of the two men, the novelist Juan Rulfo. Alberto Gironella's painting is, in effect, a bridge which unites two shores: painting and poetry. For in fact Gironella was, before all else, a poet. Impassioned and extreme, the painter Gironella - who is first and last and always a poet - establishes a tension, a tension that is enamoured of the two spheres of activity, a tension that corresponds in all its grandeur and lyricism to the beautiful tale of &#171love, madness and death&#187 that Malcolm Lowry wrote, entitled Bajo el volcán (Under the Volcano). A Pop and Surrealist painter, Gironella is unparalleled in his depiction of the intense, melancholic beauty of this transition between love and death which characterises life. Through this universality of perspective, the impact that the viewer receives is always direct, and one might say that to sustain it, there is no need for the opinion or approval of the critics.






Esta obra está incluida en las siguientes Series de Circulo del Arte:
Other Artworks by Gironella: