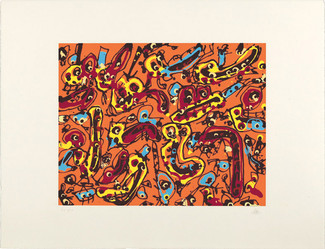 Click on the image for a more detailed view.
Antonio Saura
Carmen, acto 1
, 1994
Screenprint in 9 colors
Image format: 32,4 x 41,5 cm
Paper: Arches 50 x 65 cm
Edition of 125 numbered and signed works
Order number: 547
Normal price:
1.250,00 €
Special price for memberships:
Quote A:
1.187,50 €

( save 5% )

Quote B:
1.125,00 €

( save 10% )

Quote C:
1.000,00 €

( save 20% )

All prices include taxes
About this work:
The four silkcreens in the series Carmen are related to the four theatre curtains that Antonio Saura painted for the performance of the opera Carmen at the Staatstheather in Stuttgart in 1991, in collaboration with Carlos Saura and Luis García Navarro. The Carmen myth is confidently recreated here with great artistic richness. The vertiginous artistic rhythm and use of colour aims to allude, in each case, to the emotional state that will mark the plot in each act.

Antonio Saura himself explains: &#171I decided to entertain the audience visually during the intervals, by giving the curtains some of the mood of the following act&#187

The myth of Carmen, which has often been identified with the essence of the Spanish character, is here intelligently recreated by Saura, whose painting has so often shown an avant-garde, modern interpretation of the tragic spirit that has traditionally characterised art in Spain.




Other Artworks by Saura: