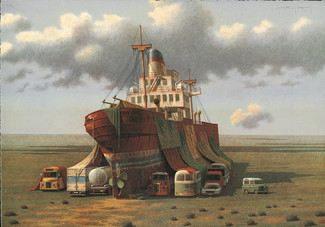 Click on the image for a more detailed view.
Arnau Alemany
Cementerio en el desierto
, 2002
Lithograph in 8 colors
Image format: 52 x 73,5 cm
Paper: Arches 52 x 73,5 cm
Edition of 160 numbered and signed works
Order number: 11817
Normal price:
460,00 €
Special price for memberships:
Quote A:
437,00 €

( save 5% )

Quote B:
414,00 €

( save 10% )

Quote C:
368,00 €

( save 20% )

All prices include taxes
About this work:
In Cementerio en el desierto (Cemetery in the Desert) Alemany recreates one of these dreamlike, strange and impossible landscapes that are a hallmark of his work. A recurrent and omnipresent theme in his oeuvre is the relationship between civilisation, created by and for men, and nature. Ironically, men are not present; he paints a ship and cars as substitutes. Means of transport are a symbol of the dominion of man over nature, but once more this last one ends by destroying them. He creates a desolate landscape, void of human presence, but with inherent life. Beyond what is represented, what strikes us is the creation of a mysterious, unreal and disquieting atmosphere. A sepia patina covers the surface and helps create this magic space. Alemany takes great care in his compositions and the colours down to the last detail. Before his work, nobody can remain indifferent.



Other Artworks by Alemany: