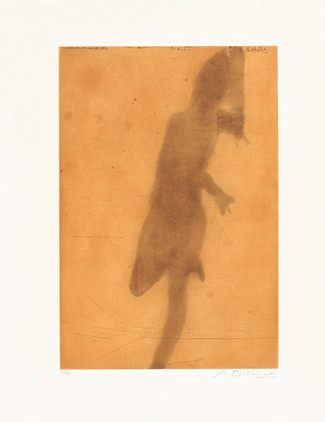 Click on the image for a more detailed view.
Nathan Oliveira
Copper Plate Nudes II (3)
, 2001
Aguafuerte y gofrado
Image format: 40 x 26,5 cm
Paper: Somerset Satín 65,5 x 49,5 cm
Edition of 30 numbered and signed works
Order number: 16170
Normal price:
2.000,00 €
Special price for memberships:
Quote A:
1.900,00 €

( save 5% )

Quote B:
1.800,00 €

( save 10% )

Quote C:
1.600,00 €

( save 20% )

All prices include taxes
About this work:
In the Copper Plate Nudes series the woman appears represented as an animated shadow, of which only a silhouette emerging from an undefined background is perceptible. Oliveira makes use of the aquatint technique, thanks to which he achieves a great variety of tonalities within the same colour range. The use of orange gives the work luminosity and warmth, which correspond to the sensuality that the female figure represents.