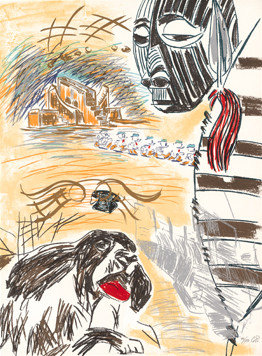 Click on the image for a more detailed view.
Carlos Pazos
Cromo - 2 (+ suplemento marco)
, 1984
Lithograph in 10 colors
Image format: 76 x 56 cm
Paper: Guarro 76 x 56 cm
Edition of 100 numbered and signed works
Order number: 14852
Normal price:
355,00 €
Special price for memberships:
Quote A:
337,25 €

( save 5% )

Quote B:
319,50 €

( save 10% )

Quote C:
284,00 €

( save 20% )

All prices include taxes
About this work:
Cromo 2 belongs to the Regreso del país de nunca jamás (Return from Neverland) series. Both the title of the work and the series take us back to our childhood. In this lithograph we observe two constants in Pazos' work: irony and melancholy; irony because of the way of selecting and treating the objects represented and melancholy - in a way, Proustian- because of the perception of a period of our lives, whether lived or not. Both in its composition and its colour, Cromo 2 shows us a Pazos influenced by pop art and also his spontaneous and ironic aesthetic; in fact, this lithograph seems to have its origin in a fleeting moment of inspiration. If on any occasion it has been said that Carlos Pazos aims to create his own personal Disneyland, Cromo 2 is a clear example of this.