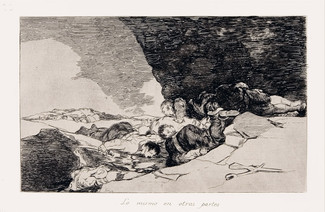 Click on the image for a more detailed view.
Goya
Desastre Nº 23. Lo mismo en otras partes
, 1906
Etching and aquatint
Image format: 25,7 x 34,5 cm
Paper format: 38 x 48
4ª edición
Order number: 24372
Normal price:
2.550,00 €
Special price for memberships:
Quote A:
2.422,50 €

( save 5% )

Quote B:
2.295,00 €

( save 10% )

Quote C:
2.040,00 €

( save 20% )

All prices include taxes
Obra enmarcada en aluminio color gris forja
Suplement: 70,00 €
About this work:
Goya constata que el horror de las matanzas con sus montones de muertos no es un hecho aislado sino que ocurre en todas partes. La escena enlaza con varias estampas anteriores que reflejan los sucesos a lo largo y ancho de todo el paisaje español desolado y devastado por la guerra.
Esta obra está incluida en las siguientes Series de Circulo del Arte:
Other Artworks by Goya: