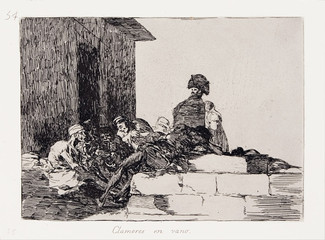 Click on the image for a more detailed view.
Goya
Desastre Nº 54. Clamores en vano
, 1906
Etching and aquatint
Image format: 25,7 x 34,5 cm
Paper format: 38 x 48
4ª edición
Order number: 24687
Normal price:
2.550,00 €
Special price for memberships:
Quote A:
2.422,50 €

( save 5% )

Quote B:
2.295,00 €

( save 10% )

Quote C:
2.040,00 €

( save 20% )

All prices include taxes
Obra enmarcada en aluminio color gris forja
Suplement: 70,00 €
About this work:
Un grupo de famélicos y hambrientos civiles espera ser socorrido por un oficial francés, que pasa con indiferencia de largo, al igual que la mujer junto a él. En un claro ejercicio de crítica social opone Goya la miseria física de los hambrientos a la miseria moral de los poderosos y pudientes.
Esta obra está incluida en las siguientes Series de Circulo del Arte:
Other Artworks by Goya: