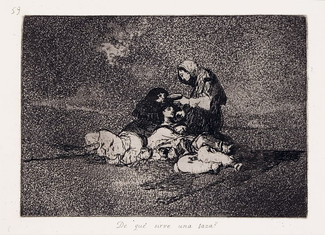 Click on the image for a more detailed view.
Goya
Desastre Nº 59. De qué sirve una taza?
, 1906
Etching and aquatint
Image format: 25,7 x 34,5 cm
Paper format: 38 x 48
4ª edición
Order number: 24737
Normal price:
2.550,00 €
Special price for memberships:
Quote A:
2.422,50 €

( save 5% )

Quote B:
2.295,00 €

( save 10% )

Quote C:
2.040,00 €

( save 20% )

All prices include taxes
Obra enmarcada en aluminio color gris forja
Suplement: 70,00 €
About this work:
La escasez y el hambre son tan extremas que la ayuda que llega de ciudadanos solidarios apenas alcanza para mitigar el sufrimiento. ¿Qué puede resolver una sola taza de caldo en medio de tanta necesidad? La oscuridad que envuelve a las conmovedoras figuras presagia su negro destino final.
Esta obra está incluida en las siguientes Series de Circulo del Arte:
Other Artworks by Goya: