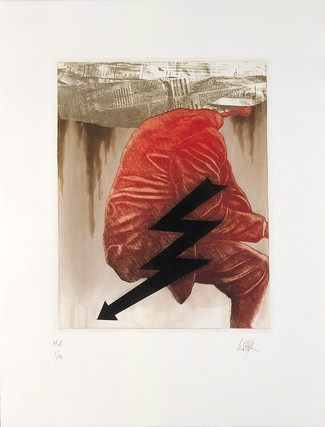 Click on the image for a more detailed view.
Jean Lecoultre
Diario
, 2001
Image format: 41 x 32 cm
Paper: Arches 66 x 50,5 cm
Edition of 100 numbered and signed works
Order number: 9464
Normal price:
430,00 €
Special price for memberships:
Quote A:
408,50 €

( save 5% )

Quote B:
387,00 €

( save 10% )

Quote C:
344,00 €

( save 20% )

All prices include taxes
About this work:
The works Super Verónica (Super Veronica) and Diario (Newspaper), created exclusively for Círculo del Arte, belong to the series Panoplias, and are examples of the refined technique and profound ability of observation of the artist. Here Lecoultre juxtaposes fragile and vulnerable beings or objects -as the felt duck and the human body- to menacing and mysterious situations, as the curtain that covers up a dangerous situation or the newspaper that covers the head of a victim with bad news. With this combination of everyday objects of opposite meanings, Lecoultre manages to create a mystery that captivates the observer.




Other Artworks by Lecoultre: