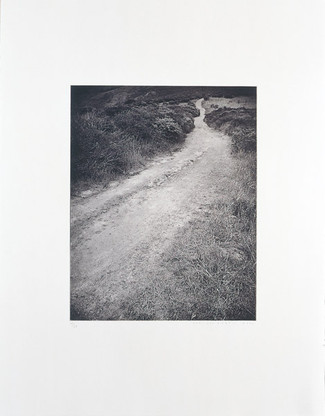 Click on the image for a more detailed view.
Unai San Martín
Diaz Ridge Trail
, 2001
Heliogravure
Image format: 41 x 32,5 cm
Paper: Hahnemühle 73 x 56,5 cm
Edition of 35 numbered and signed works
Order number: 10686
Normal price:
590,00 €
Special price for memberships:
Quote A:
560,50 €

( save 5% )

Quote B:
531,00 €

( save 10% )

Quote C:
472,00 €

( save 20% )

P&D price:
100,00 € + 100 points
All prices include taxes
About this work:
The series A place was presented for the first time at ARCO 2002. San Martín says about it: &#171the idea of making this series came from a walk in the north of California. The landscape was made up of hills and small trees, with a few pine trees here and there, and a line of eucalyptus trees towards the end. This landscape was covered in fog almost all year round. The fog moves changing constantly the appearance of things. The place revealed itself to me as scenery where we could profit from the qualities of light, very dense, which reminded me of some small paintings I saw some time ago. I was interested in evoking a mythological time through a contemporary image. And here, in little space, were condensed all the elements I like: herbs, rocks, trails and the sound of fog.&#187

The world San Martín manages to describe is magical, in which this evocation becomes far more attractive than the presentation itself. To the purest romantic style, San Martín's camera falls in love with every element of nature and finds the poetry that hides behind reality.