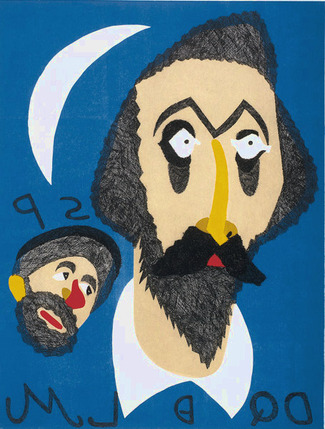 Click on the image for a more detailed view.
Eduardo Arroyo
Don Quijote y Sancho Panza
, 1997
Etching in 6 colors
Image format: 65 x 50 cm
Paper: Arches 65 x 50 cm
Edition of 90 numbered and signed works
Order number: 2147
Normal price:
1.525,00 €
Special price for memberships:
Quote A:
1.448,75 €

( save 5% )

Quote B:
1.372,50 €

( save 10% )

Quote C:
1.220,00 €

( save 20% )

All prices include taxes
About this work:
In Don Quijote y Sancho Panza (Don Quixote and Sancho Panza), Arroyo uses simple forms and planes of colour. He reconstructs the faces of these two characters, the most popular couple in the history of Spanish literature, as if they were part of a puzzle, and recreates the contrasting personalities of the two men in a highly narrative style.

With accentuated drama in his gaze, Don Quijote, that lunatic - as Arroyo seems to be saying by introducing a crescent moon into the top corner of the picture - is aiming his thoughts nowhere in particular, while his pragmatic shield-bearer, in counterpoint, can not drag his eyes from something extremely concrete, the effigy of the knight whom he serves.





Other Artworks by Arroyo: