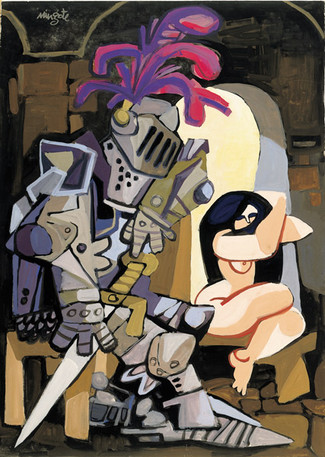 Click on the image for a more detailed view.
Antonio Mingote
El guerrero y la dama
, 1999
Screenprint in 21 colors
Image format: 65x 50 cm
Paper: Velin Arches 65x 50 cm
Edition of 150 numbered and signed works
Order number: 4218
Normal price:
260,00 €
Special price for memberships:
Quote A:
247,00 €

( save 5% )

Quote B:
234,00 €

( save 10% )

Quote C:
208,00 €

( save 20% )

All prices include taxes
About this work:
This large format screen print is the first of Mingote's works with these characteristic to reach the art market. The subject of El guerrero y la dama (The Knight and the Maiden) comes from an original painting which stands over the front door of the artist's house in Madrid. It is the emblem of his home, where he lives with his wife Isabel. It is notable for the power of the drawing, the brightness of the colours and the contrast between the knight in full armour all the way up to his crest and the seductive nakedness of the untouchable maiden.




Other Artworks by Mingote: