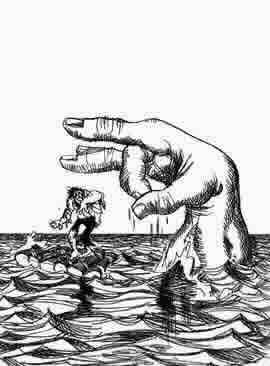 Click on the image for a more detailed view.
Antonio Mingote
El náufrago o el colmo de la desdicha
, 2000
Etching in 1 color
Image format: 25 x 33 cm
Paper: Arches 50 x 65 cm
Edition of 125 numbered and signed works
Order number: 5710
Normal price:
250,00 €
Special price for memberships:
Quote A:
237,50 €

( save 5% )

Quote B:
225,00 €

( save 10% )

Quote C:
200,00 €

( save 20% )

All prices include taxes
About this work:
The subject El náufrago o el colmo de la desdicha (The Shipwrecked Sailor or the Ultimate in Misfortune) shows random destiny seen through the prism of sagacious, if somewhat cruel, wit. Here Mingote makes us think about the absurd and the incomprehensible, which is how the force that rules humanity might be seen. The poor sailor is quite literally &#171in God's hands&#187, a god who might well by the mythological Poseidon. Or perhaps it is an ironic parody of the famous gesture of the Christian god painted by Michaelangelo in his fresco The Creation of Adam in the Sistine Chapel. The god evoked by Mingote is stretching out his hand to a paradoxically minute Adam, not to give him life but to flick him out of the universe.




Other Artworks by Mingote: