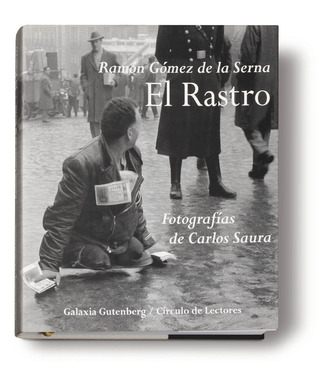 Click on the image for a more detailed view.
Ramón Gómez de la Serna
El Rastro
Artwork by Gómez de la Serna and Saura
Order number: 60047
Price:
55,00 €
P&D price:
25,00 € + 30 points
All prices include taxes
About this work:
El Rastro, uno de los libros emblemáticos de Ramón Gómez de la Serna, fue publicado por primera vez en 1914 en pleno estallido de las vanguardias. La obra conoció cuatro ediciones en vida del autor. Este libro vuelve al texto original y reproduce las fotografías que Carlos Saura realizó en 1961, con las que el maestro del cine español aporta una lectura incisiva y atrevida de la abigarrada y dramática atmósfera del popular mercado madrileño.
Esta obra está incluida en las siguientes Series de Circulo del Arte: