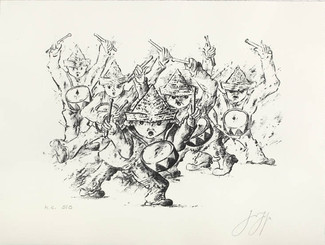 Click on the image for a more detailed view.
Günter Grass
El tambor de hojalata. Cinco veces Oscar II
, 2010
Lithograph in 1 color
Format: 50 x 65 cm
Paper: Alt-Lünen de Hahnemühle
Edition of 170 numbered and signed works
Order number: 40127
Normal price:
430,00 €
Special price for memberships:
Quote A:
408,50 €

( save 5% )

Quote B:
387,00 €

( save 10% )

Quote C:
344,00 €

( save 20% )

All prices include taxes
Opcional: con marco de madera de roble
Suplement: 120,00 €
About this work:
Estampas conmemorativas del cincuentenario de El tambor de hojalata
Amigo fiel de Círculo del Arte, con asidua presencia en nuestros catálogos y exposiciones, reaparece hoy Grass con dos litografías dedicadas a conmemorar el cincuentenario de su celebérrima novela El tambor de hojalata, cuya fulgurante aparición en 1959 catapultó al autor a la primera fila de la literatura mundial. El protagonista de la obra es el pequeño Oskar Matzerath, que llega al mundo en 1924 en Danzig. Dotado de extraordinaria precocidad y de una voz capaz de hacer saltar en añicos vajillas y vidrieras, registra con desazón los acontecimientos de su entorno, por lo que al cumplir los tres años decide interrumpir su crecimiento. Pertrechado con un tambor de hojalata, que utiliza para desahogarse y combatir su malestar, el diminuto personaje se convierte en lúcido testigo del aterrador ascenso y derrumbe del Tercer Reich.
Desde que Grass dibujara la figura del pequeño héroe con su tambor para la portada de la primera edición de 1959, la efigie del personajillo se ha convertido en una inconfundible marca gráfica del autor. En El tambor de hojalata I y II (Fünf mal Oskar I y Fünf mal Oskar II) vemos al "pequeño que no quería crecer", enfurecido, agitando los brazos y levantándolos en señal de protesta. Es el clamor del ofendido y humillado contra los abusos del más fuerte. La ira de los rostros y ademanes dota a las estampas de la gestualidad tan característica del dibujo de Grass, al tiempo que resalta la crítica mordaz, la ironía, el sentido del humor y la desinhibida libertad, con las que el autor construyó su obra maestra.
Las imágenes nos hacen ver y sentir materialmente la marcha del alborotado pelotón y el ensordecedor redoble de sus tambores. La indignación de estos pequeños rebeldes con causa cuenta con nuestra simpatía. Es la indignación contra los males del mundo que siente el propio Grass y que percibimos en toda su grandiosa obra literaria y ensayística.
Other Artworks by Grass: