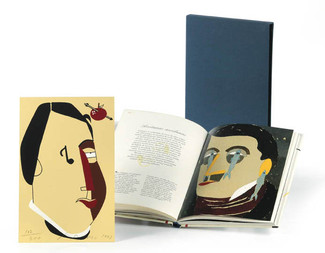 Click on the image for a more detailed view.
Alessandro Falassi
En la mesa con Rossini
Image format: 16,5 x 24,5 cm
Edition of 300 numbered and signed works
Order number: 521
Normal price:
250,00 €
Special price for memberships:
Quote A:
237,50 €

( save 5% )

Quote B:
225,00 €

( save 10% )

Quote C:
200,00 €

( save 20% )

All prices include taxes
About this work:
En la mesa con Rossini (At Table with Rossini) is an original, carefully-documented work that shows the relationship between biography, artistic creation and the culinary tastes of a man who could have been a famous gourmet if his gastronomic talent had not been bettered by his musical genius. Here Arroyo introduces an original vision of illustration incorporating the aesthetic qualities of typographical design.

In the silkscreen that accompanies the book, Eduardo Arroyo links the two sides of Rossini. With simple shapes, he creates faces that transmit the composer's double personality: facial characteristics and musical and culinary concepts change positions in order to create portraits with a clear ability to communicate. As in hieroglyphics, concepts are substituted for images which symbolise them, filling the faces with musical clefs, sardines or apples.



The book: with illustrations by Eduardo Arroyo. Printed cover, with jacket. 16,5 x 24,5 cm. 128 pages.

The case: lined with Iris cloth with stamping on cover.

The print: Retrato de Giacomo Rossini (Portrait of Giacomo Rossini), by Eduardo Arroyo. Silkscreen in 4 colours on Arches paper. 23 x 15 cm. Numbered and signed edition of 300. Number 287 of the catalogue raisonné of Arroyo's graphic work.