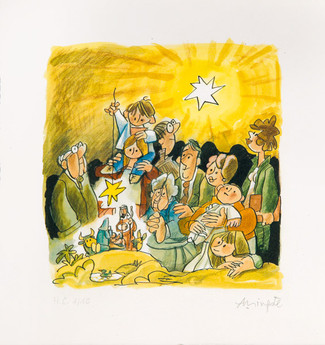 Click on the image for a more detailed view.
Antonio Mingote
Feliz Navidad (Christmas II)
, 2010
Lithograph
Image format: 23,5 x 24 cm
Paper: BFK Rives 34 x 32 cm
Edition of 99 numbered and signed works
Order number: 40138
Normal price:
220,00 €
Special price for memberships:
Quote A:
209,00 €

( save 5% )

Quote B:
198,00 €

( save 10% )

Quote C:
176,00 €

( save 20% )

All prices include taxes
Opcional: con marco de aluminio
Suplement: 65,00 €
About this work:
En la litografía Feliz Navidad II (Christmas II) evoca Mingote la magia de la navidad y su fuerza integradora. El belén y la estrella de oriente convocan a familias y personas de todas las edades, serenan el ánimo, promueven la comprensión mutua y despiertan sentimientos de paz y armonía. Por su simbolismo y ternura, el dibujo original de esta litografía ocupó la portada de ABC el 27 de diciembre de 2009 con motivo del día de la familia.
Other Artworks by Mingote: