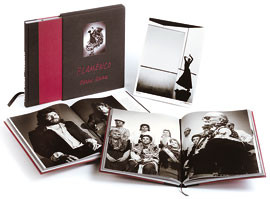 Click on the image for a more detailed view.
Carlos Saura
Flamenco (Edic. bibliófila)
, 2004
Image format: 31,5 x 24,5 cm
Edition of 200 numbered and signed works
Order number: 16790
Normal price:
280,00 €
Special price for memberships:
Quote A:
266,00 €

( save 5% )

Quote B:
252,00 €

( save 10% )

Quote C:
224,00 €

( save 20% )

P&D price:
140,00 € + 150 points
All prices include taxes
About this work:
A selection of the best photos taken over 50 years and during the making of these films makes up the foundation of the book Flamenco, an exceptional work dedicated to this most Spanish of arts. In the series of remarkable black and white images, we see both emblematic and anonymous characters, mythical figures as great as Camarón de la Isla, Lola Flores, Antonio Gades, Paco de Lucía and Manolo Sanlúcar and also highly expressive, but unknown, artists. Carlos Saura, with the camera, penetrates the soul and the mystery of this artistic manifestation of remote origin and leads us to a world of extraordinary and intense emotion. The book also has an extensive introductory text by the author about his vision and his relationship with flamenco. The collection of more than a hundred photos - the majority of them unpublished - constitutes a valuable work that will be exhibited during the summer in our gallery in Barcelona and will then begin a tour of Spain and Europe. Some of these photos have been made into, on baryta archival paper, a limited edition for collectors, signed by the author.


The book: Text by Carlos Saura, illustrated with more than 130 black and white photographs. Format: 31,5 x 24,5 cm. 256 pages. The book is signed by Carlos Saura.
The slipcase: Clothbound with a photograph on the cover.
The photograph: Belén Maya in an rehearsal for the movie Flamenco. Gelatine silver print. Size: 22 x 19 cm. Edition of 200 signed and numbered prints.

Esta obra está incluida en las siguientes Series de Circulo del Arte:
Other Artworks by Saura: