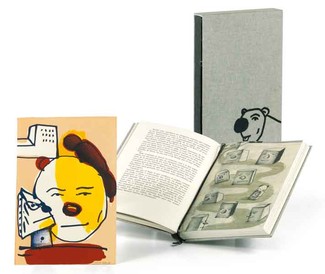 Click on the image for a more detailed view.
François Rabelais
Gargantúa
Image format: 16,5 x 24,5 cm
Edition of 300 numbered and signed works
Artwork by Rabelais and Pagola
Order number: 1099
Normal price:
250,00 €
Special price for memberships:
Quote A:
237,50 €

( save 5% )

Quote B:
225,00 €

( save 10% )

Quote C:
200,00 €

( save 20% )

All prices include taxes
About this work:
With his usual, free, confident style Javier Pagola has illustrated the edition of Gargantua published to celebrate the 500th anniversary of the birth of its author, François Rabelais. This edition is accompanied by an original lithograph by the Basque artist.

With his personal language, which in many ways speaks from the same spontaneous, ironic point of view as Rabelais, Pagola creates a series of images to accompany the text. The various characters and objects adopt the characteristic immoderation and irrationality found in the characters of this half tender, half grotesque epic work about Gargantua, a giant hero in human surroundings.

Ever-changing, free of gravity, not bound by time or space, Javier Pagola's extravagant, exaggerated characters are so full of the life, freedom and fun of the original story that they exude ink through every pore, and you can almost hear them fart, silenced only by the deafness of the paper. In their excess, Pagola's characters are forced to stay within the only bounds known to this 16th century classic of universal literature: those of the page.



The book: with 24 illustrations in colour and 50 in black and white by Javier Pagola. Binding: Scholco cloth with stamping. 16,5 x 24,5 cm. 265 pages. Numbered edition of 300.

The case: lined with Scholco cloth, with stamping on front cover.

The print: Gargantúa, by Javier Pagola. Lithograph in 4 colours. 23 x 15 cm. Numbered and signed edition of 300.


Other Artworks by Rabelais: