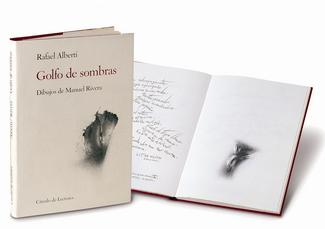 Click on the image for a more detailed view.
Rafael Alberti
Golfo de sombras
Image format: 19 x 27 cm
Paper: Arches
Edition of 300 numbered and signed works
Order number: 60002
Normal price:
200,00 €
Special price for memberships:
Quote A:
190,00 €

( save 5% )

Quote B:
180,00 €

( save 10% )

Quote C:
160,00 €

( save 20% )

All prices include taxes
About this work:
In 1992 Círculo de Lectores commemorated the 90th birthday of Rafael Alberti (1902-1999) with this book, which Círculo del Arte is presenting here in a beautifully presented edition. Here, the highly personal writing of Alberti, which is as visually artistic as it is poetic, joins with the beautiful images made by the late Manuel Rivera (1927-1995), one of the founders of the legendary group El Paso. The two artists link words and images in the same profound, sensual work, It is the fruit of their deep sensibilities rooted in Andalusia, but is also recognisably universal in what they evoke. The perfect understanding between these two geniuses is the result of their long friendship and close collaboration on different projects.



The book: Illustrations by Manuel Rivera. Binding: Regentleinen cloth with stamping. 80 pages.

The case: lined in Regentleinen cloth. 18,8 x 27 cm.



Other Artworks by Alberti: