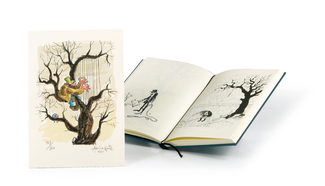 Click on the image for a more detailed view.
Antonio Mingote
Hombre solo
, 1998
Image format: 16 x 24 cm
Edition of 300 numbered and signed works
Order number: 40041
Normal price:
190,00 €
Special price for memberships:
Quote A:
180,50 €

( save 5% )

Quote B:
171,00 €

( save 10% )

Quote C:
152,00 €

( save 20% )

All prices include taxes
About this work:
Here we are presenting the collector's version of Hombre solo, luxuriously bound and accompanied by an original screen print of Consuelo del solitario (The Consolation of the Loner), in a numbered edition signed by the artist. An essential addition for any collector.

The book: with 125 illustrations in black and white by Antonio Mingote. Binding: Iris cloth with stamping on spine. 16 x 24 cm. 176 pages. Signed and numbered edition of 300.

The case: lined with Iris cloth with a colour print on the front cover.

The print: El consuelo del solitario (The Consolation of the Loner). Silkscreen in 13 colours by Antonio Mingote. 19,8 x 15 cm. Paper: Velin Arches 26,8 x 18,3 cm. Numbered and signed edition of 300.


Other Artworks by Mingote: