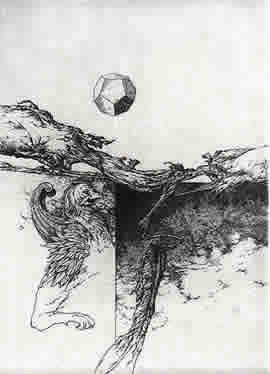 Click on the image for a more detailed view.
José Hernández
Homenaje a Borges
, 1994
Etching in 1 color
Image format: 27,5 x 19,5 cm
Paper: Arches 56 x 38 cm
Edition of 100 numbered and signed works
Order number: 539
Normal price:
350,00 €
Special price for memberships:
Quote A:
332,50 €

( save 5% )

Quote B:
315,00 €

( save 10% )

Quote C:
280,00 €

( save 20% )

All prices include taxes
About this work:
The etching Homenaje a Borges (Tribute to Borges) is very characteristic of the work of José Hernández. The allusion to the literary world, a constant feature of his work, is here aimed at the writing of Jorge Luis Borges, and is profoundly meaningful, since in Hernández's work one can see a transposition of images taken from the unreal, yet extremely accurately tangible atmosphere that Borges transmits in his work.

As an allusion to Borges' work entitled The Book of Imaginary Beings, in which his mythological animals are a combination of learning and the most far-reaching fantasy, in this Tribute, Hernández speaks to us of a world of chimerical beings that can only exist in books or dreams. By only showing us a part of their anatomy, Hernández suggests an atmosphere of mystery that requires us actively to use our imaginations.





Other Artworks by Hernández: