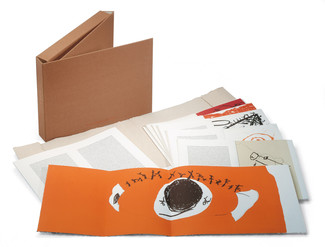 Click on the image for a more detailed view.
Egeria
Itinerarium. Libro y dibujo original I
, 1999
Image format: 28,5 x 38 cm
Paper: BFK Rives
Artwork by Egeria and Lamazares
Order number: 13169
Normal price:
3.500,00 €
Special price for memberships:
Quote A:
3.325,00 €

( save 5% )

Quote B:
3.150,00 €

( save 10% )

Quote C:
2.800,00 €

( save 20% )

All prices include taxes
About this work:
Egeria's Itinerarium or Travels is probably one of the most enigmatic texts of Latin literature. Both the manuscript, found in Italy at the end of the 19th century, and its author raise a series of doubts that numerous scholars have tried to clarify to no avail. Egeria was born somewhere in the Eastern part of the Roman Empire between the 4th and 7th centuries, and she probably belonged to a religious order. She made a three-year visit to the Holy Land, during which she wrote down in detail her impressions and experiences of her pilgrimage. Here we present Egeria's Itinerarium illustrated with six lithographs by Antón Lamazares.

The book: Book of individual sheets with a Latin text by Egeria translated into Spanish, and six lithographs by Antón Lamazares. 28,5 x 38 cm. Edition of 90 copies, all numbered and signed by Lamazares on the colophon.

The prints: Lithographs on BFK Rives paper. 28,5 x 75,5 cm.

This copy comes with an original drawing by Lamazares.


Other Artworks by Egeria: