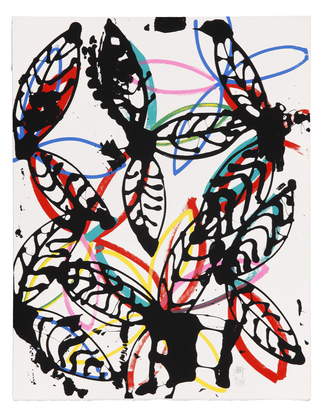 Click on the image for a more detailed view.
Frederic Amat
Jardín
, 1998
Screenprint in 10 colors
Image format: 65 x 50 cm
Paper: Velin Arches 65 x 50 cm
Edition of 75 numbered and signed works
Order number: 3871
Normal price:
490,00 €
Special price for memberships:
Quote A:
465,50 €

( save 5% )

Quote B:
441,00 €

( save 10% )

Quote C:
392,00 €

( save 20% )

All prices include taxes
About this work:
In Jardín (Garden) one can recognise immediately Amat's very characteristic black graphic style, as well as organic elements, typical of his work. The composition is dominated by loose, over-lapping, leaf-wings caught up in a wild dance, leaf-wings which in turn are ancient, mythical symbols of a primordial nature. Indeed Amat's work is deeply poetic, troubling and far-reaching at the same time.




Other Artworks by Amat: