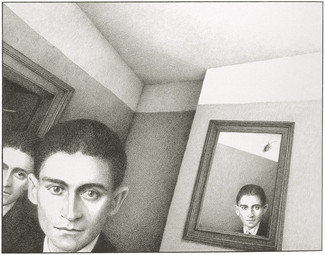 Click on the image for a more detailed view.
Willi Glasauer
Kafka y el espejo de los sueños
, 1999
Lithograph in 1 color
Image format: 36,5 x 47 cm
Paper: Velin Arches 50 x 60 cm
Edition of 75 numbered and signed works
Order number: 4994
Normal price:
210,00 €
Special price for memberships:
Quote A:
199,50 €

( save 5% )

Quote B:
189,00 €

( save 10% )

Quote C:
168,00 €

( save 20% )

All prices include taxes
About this work:
Willi Glasauer, an artist with a sharp capacity for observation, has immortalised numerous fictional characters, as well as their literary creators, cinema stars and famous musicians. From his profound understanding of the work of Kafka have arisen creations of great intensity and virtuosity. The large format lithograph Kafka and the Mirror of Dreams and Portrait of Kafka show an extraordinary technical mastery, a delicate sensibility and a powerful ability to create images and fantasy-filled atmospheres.




Other Artworks by Glasauer: