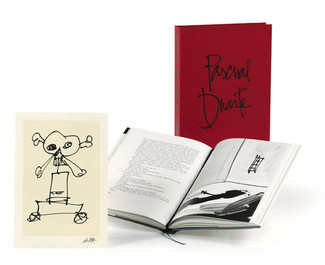 Click on the image for a more detailed view.
Camilo José Cela
La familia de Pascual Duarte (Edic. Bibliof.)
, 1996
Image format: 26,8 x 18,8 cm
Edition of 300 numbered and signed works
Order number: 4077
Normal price:
250,00 €
Special price for memberships:
Quote A:
237,50 €

( save 5% )

Quote B:
225,00 €

( save 10% )

Quote C:
200,00 €

( save 20% )

All prices include taxes
About this work:
His desire for renovation, the sobriety of a language free of any sentimentality, and the realism of a story based on personal experience which reflects the suffering of an entire nation, are what have made La familia de Pascual Duarte a key work in Spanish literature of the 20th century. First published in 1942, it was also very influential in winning the Nobel Prize for Literature for its creator, Camilo José Cela (Iria Flavia, 1916) in 1989. The artistic depiction of - in the words of Antonio Saura - &#171the beauty of the monstrous, like the beauty of the obscene&#187 also seduced this Aragonese painter, who illustrated the book in 1986 with a series of powerful images. His work is reissued here, in this extraordinary collector's edition, presented in a beautiful cloth-covered case, and accompanied by an original, numbered and authenticated screen print. Saura's genius transforms the written ideas into palpable images: &#171The shadow of a knife, in a representation that rejects the representation of a manufactured object and becomes a menacing sexual symbol. The female form, object of love and hate darkly linked, in a soft massthe aggression of man against animal, the monstrous copulations of the bats.&#187

The book: with 22 illustrations in colour and 15 vignettes in black and white by Antonio Saura. Binding: Iris cloth with stampings in spine and cover, with jacket. 26,8 x 18,8 cm. 220 pages. Numbered edition of 300.

The case: lined with Iris cloth with stamping on spine and cover.

The print: silkscreen in 2 colours by Antonio Saura. 21,3 x 14 cm. Paper: Velin Arches 25 x 17 cm. Numbered edition of 300, authenticated by the Estate of Antonio Saura.



Other Artworks by Cela: