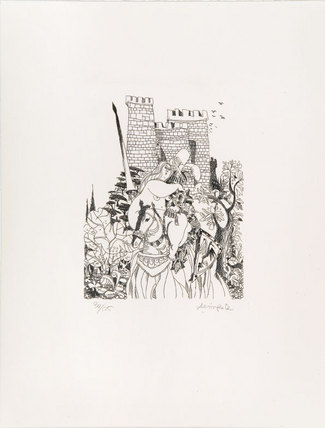 Click on the image for a more detailed view.
Antonio Mingote
La heroica
, 2000
Aguafuerte
Image format: 33 x 25 cm cm
Paper: Arches 65 x 50 cm cm
Edition of 50 numbered and signed works
Order number: 5744
Normal price:
250,00 €
Special price for memberships:
Quote A:
237,50 €

( save 5% )

Quote B:
225,00 €

( save 10% )

Quote C:
200,00 €

( save 20% )

All prices include taxes
About this work:
En La heroica contemplamos la exuberante belleza de una mujer desnuda abrazada a un caballero armado. La desigual pareja parece huir del castillo que se levanta a sus espaldas en busca de un mañana más libre y feliz. Es la contradicción del hombre solitario, incapaz de enfrentarse a la realidad si no se sabe protegido, aunque sea por una opresiva armadura. A su lado se nos muestra la sencilla belleza de la mujer desnuda, quien por el contrario no siente ningún pudor en mostrarse tal cual es.
Other Artworks by Mingote: