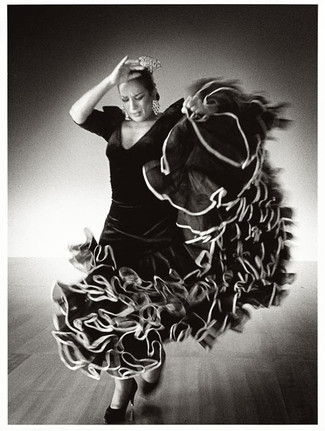 Click on the image for a more detailed view.
Carlos Saura
Lola Flores en un ensayo para Sevillanas (60x50)
, 1991
Photograph
Image format: 60 x 50 cm
Paper: Baritado 60 x 50 cm
Edition of 50 numbered and signed works
Order number: 7294
Normal price:
1.100,00 €
Special price for memberships:
Quote A:
1.045,00 €

( save 5% )

Quote B:
990,00 €

( save 10% )

Quote C:
880,00 €

( save 20% )

All prices include taxes
About this work:
For half a century, Lola Flores dominated the public scene in Spain, earning the nicknames «The Pharaoh» and «Lola of Spain.» Her charismatic personality engendered her overwhelming nature, and was transmitted through her powerful voice, intense gaze and expressive gestures. In this masterful photographs, we see her dancing like a whirlwind on the rampage, challenging the camera with her strong gaze and burning eyes.

Black and white photographs on silver gelatine paper.
Format: 50 x 60 cm
Edition: 50. Numbered and signed.
Also available in 40 x 50 cm format
Normal price: ...........................................1.100,00 €
Special Price for memberships:
Quote A ( 5% discount): .................1.045,00 €
Quote B (10% discount): ..................990,00 €
Quote C (20% discount):................. 880,00 €
Esta obra está incluida en las siguientes Series de Circulo del Arte:
Other Artworks by Saura: