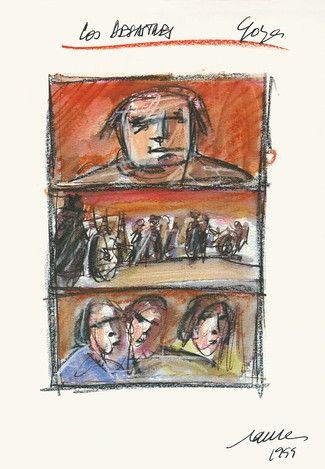 Click on the image for a more detailed view.
Carlos Saura
Los Desastres
, 1999
Mixed media on paper
Image format: 29,5 x 21 cm
Order number: 11130
Normal price:
1.500,00 €
Special price for memberships:
Quote A:
1.425,00 €

( save 5% )

Quote B:
1.350,00 €

( save 10% )

Quote C:
1.200,00 €

( save 20% )

All prices include taxes
About this work:
Film-maker, screenplay writer, photographer, novelist and illustrator. These are the multiple facets of Carlos Saura, a fertile, prolific creator whose original illustrations - for the first time - we are offering here. These are illustrations which were made as part of the preparatory work for the film Goya en Burdeos (Goya in Bordeaux).

In his prologue for the screenplay, Saura writes, &#171What I was most interested in was accompanying Goya during his last days in Bordeaux, when his memory was growing weak and the shadow of death was pursuing him. This was a Goya who was seeking refuge in memory and who was meditating on life and death.&#187

These drawings, made with coloured pencils, Chinese ink and wax crayon on A4 paper represent scenes in Goya's life. They are portraits of his lovers, urban landscapes from Bordeaux and Madrid, details from his paintings, and sequences from the dreams, hallucinations and nightmares that haunted him. The drawings bear witness to the fascination Saura feels for the genius painter from Aragon.




Esta obra está incluida en las siguientes Series de Circulo del Arte:
Other Artworks by Saura: