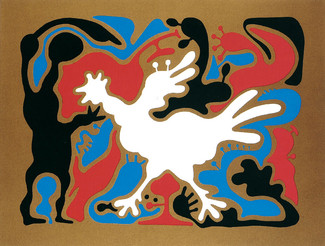 Click on the image for a more detailed view.
Otto Cavalcanti
Lux
, 2000
Screenprint in 5 colors
Image format: 50 x 65 cm
Paper: Velin Arches 50 x 65 cm
Edition of 100 numbered and signed works
Order number: 6262
Normal price:
195,00 €
Special price for memberships:
Quote A:
185,25 €

( save 5% )

Quote B:
175,50 €

( save 10% )

Quote C:
156,00 €

( save 20% )

All prices include taxes
About this work:
The two screen prints Mujer-pájaro (Bird Woman) and Lux (Light) belong to Cavalcanti`s so-called &#171soft style&#187: these are agreeable images from a childhood full of fantastic realism. Cut out and silhouetted, his figures slide past sensually, like amoeba or snakes. Winged creatures are not new to his work, and seem to have come from the Carnival in Rio or from Brazil's syncretic pantheon. They might be samba dancers in disguise, or the masked forms of &#171orishas&#187 (gods) who come down and dance at celebrations of the typical ritual called &#171candomblé&#187.





Other Artworks by Cavalcanti: