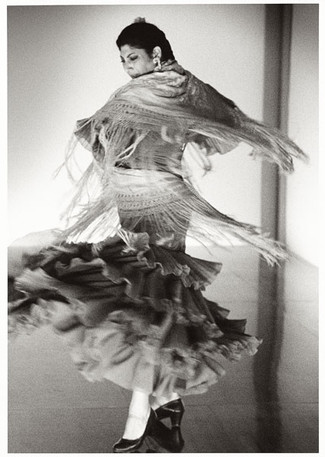 Click on the image for a more detailed view.
Carlos Saura
Manuela Carrasco, ensayo para Sevillanas (60x50)
, 1991
Photograph
Image format: 60 x 50 cm
Paper: Baritado 60 x 50 cm
Edition of 50 numbered and signed works
Order number: 7039
Normal price:
1.600,00 €
Special price for memberships:
Quote A:
1.520,00 €

( save 5% )

Quote B:
1.440,00 €

( save 10% )

Quote C:
1.280,00 €

( save 20% )

All prices include taxes
About this work:
An impressive image of a human cyclone who, fed by her strong temperament and overflowing talent, was already a sensation when she was only a child. This is the great flamenco dancer Manuela Carrasco. The shawl with the long fringe and the undulating ruffles on her skirt fly from her body, impelled by the artist's dizzying spinning.

Black and white photographs on silver gelatine paper.
Format: 50 x 60 cm
Edition: 50. Numbered and signed.
Also available in 40 x 50 cm format
Normal price: ...........................................1.100,00 €
Special Price for memberships:
Quote A ( 5% discount): .................1.045,00 €
Quote B (10% discount): ..................990,00 €
Quote C (20% discount):................. 880,00 €
Esta obra está incluida en las siguientes Series de Circulo del Arte:
Other Artworks by Saura: