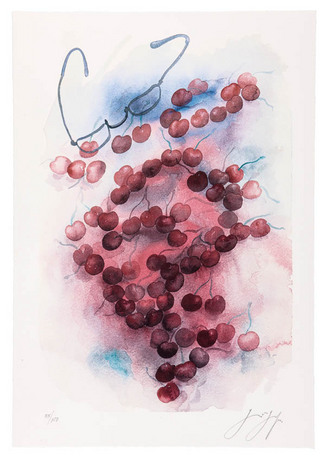 Click on the image for a more detailed view.
Günter Grass
Mis gafas en tiempo de cerezas
, 2001
Lithograph in 12 colors
Image format: 64 x 44 cm
Paper: Arches 64 x 44 cm
Edition of 150 numbered and signed works
Order number: 7880
Normal price:
550,00 €
Special price for memberships:
Quote A:
522,50 €

( save 5% )

Quote B:
495,00 €

( save 10% )

Quote C:
440,00 €

( save 20% )

All prices include taxes
About this work:
Günter Grass surprised everybody when, a few years ago, he returned to painting watercolours after a long period of four decades during which he had only painted, drawn or engraved in black and white. Today he is back at Círculo del Arte with an extraordinary example of his return to colour. The three colour lithographs, Lilas para Ute (Lilies for Ute), Mis gafas en tiempo de cerezas (My Spectacles in Cherry Season), and En busca de la belleza... (In Search for Beauty..)., made at the workshop of Vicente Aznar, highlight Grass's love of nature.

The works show something of the rural environment of his peaceful home in the north of Germany. The beautiful bunch of lilacs is an offering to his wife Ute. As for the other two subjects, Grass recalls that he was drawing them in his garden when news reached him from Stockholm that he had won the Nobel Prize for literature, a beautiful anecdote that situates these two works at an historic moment in time. The union of the fruits of nature - cherries and plums - with such personal effects as his glasses and his pipe, make these charming still life watercolours intimate mementoes of the artist and writer.





Other Artworks by Grass: