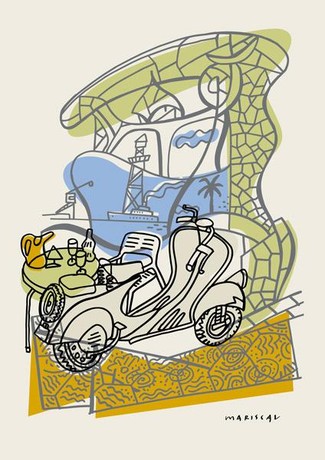 Click on the image for a more detailed view.
Javier Mariscal
Oda a Gaudí II (Mi vespa)
, 2002
Screenprint in 5 colors
Image format: 70 x 50 cm
Paper: Watercolour Fabriano 70 x 50 cm
Edition of 125 numbered and signed works
Order number: 11270
Normal price:
610,00 €
Special price for memberships:
Quote A:
579,50 €

( save 5% )

Quote B:
549,00 €

( save 10% )

Quote C:
488,00 €

( save 20% )

All prices include taxes
About this work:
Few artists have contributed as much as Mariscal to create a ludic and festive image of Barcelona. Fascinated by Barcelonan architecture and the Gaudi legacy, Mariscal has created the silkscreens Oda a Gaudí I and II to celebrate the 150 anniversary of the Catalan architect. In them he melts a modern Barcelona with Gaudinian details, as the ornamented floors of the Paseo de Gracia, the chimneys of La Pedrera and the mosaics of the Park Güell.


Other Artworks by Mariscal: