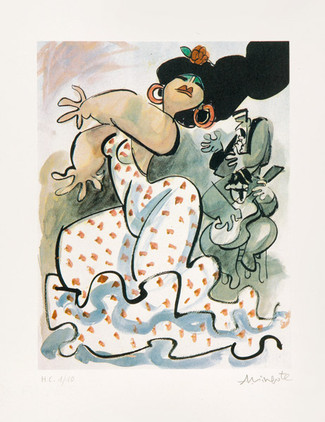 Click on the image for a more detailed view.
Antonio Mingote
Pasión flamenca
, 2010
Lithograph
Image format: 29,5 x 23 cm
Paper: BFK Rives 41 x 33 cm
Edition of 99 numbered and signed works
Order number: 40137
Normal price:
250,00 €
Special price for memberships:
Quote A:
237,50 €

( save 5% )

Quote B:
225,00 €

( save 10% )

Quote C:
200,00 €

( save 20% )

All prices include taxes
Opcional: con marco de aluminio
Suplement: 70,00 €
About this work:
Pasión flamenca procede de un dibujo antiguo que hemos encontrado al revisar el archivo de Mingote con intención de iniciar una antología de estampas emblemáticas del artista. El flamenco y sus intérpretes han aparecido esporádicamente en la obra de Mingote como símbolo de una España tradicional, arraigada en el tipismo. En la nueva litografía asistimos rendidos a la trepidante escena de una volcánica bailaora, espoleada por el jaleo de las palmas y el arrebatado toque de guitarra de sus acompañantes. Un oportuno homenaje al flamenco en estos momentos en que acaba de ser reconocido por la UNESCO como Patrimonio Inmaterial de la Humanidad.
Other Artworks by Mingote: