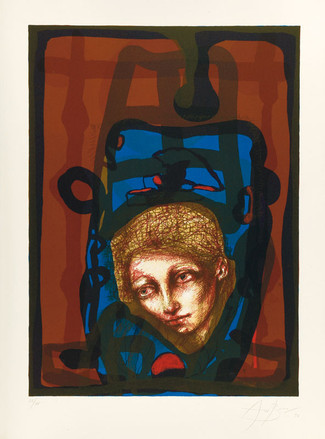 Click on the image for a more detailed view.
Eduardo Arranz-Bravo
Pasión II
, 1996
Lithograph in 6 colors
Image format: 62 x 46 cm
Paper: Arches 76 x 56 cm
Edition of 75 numbered and signed works
Order number: 1438
Normal price:
400,00 €
Special price for memberships:
Quote A:
380,00 €

( save 5% )

Quote B:
360,00 €

( save 10% )

Quote C:
320,00 €

( save 20% )

All prices include taxes
About this work:
In Pasión I and Pasión II (Passion I and II), the sad expression on a face depicted with sober naturalism contrasts with an anti-naturalist background, in which the bands of colour create dynamics that take on their own life.

In both cases, the lines of the face are drawn by creating volumes and shadows, while the background consists of absolutely flat planes of colours, arranged almost at random.




Other Artworks by Arranz-Bravo: