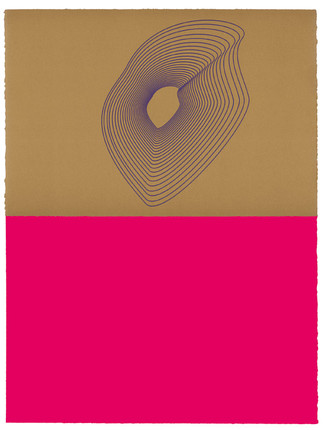 Click on the image for a more detailed view.
Eugenia Agustí
Sintagma tornasolar III
, 2011
Litografía y grabado entintado en relieve
Format: Díptico, 2 x (33,5 x 51 cm)
Paper: BFK Rives
Edition of 10 numbered and signed works
Order number: 40315
Normal price:
800,00 €
Special price for memberships:
Quote A:
760,00 €

( save 5% )

Quote B:
720,00 €

( save 10% )

Quote C:
640,00 €

( save 20% )

All prices include taxes
About this work:
Format MP4 | Format Ogg | Format WebM
Impresionado por la calidad, la exigencia y la modernidad técnica y estética de los planteamientos de la artista, acordó Círculo del Arte con Eugènia Agustí a comienzos de 2011 la realización del proyecto Sintagma tornasolar, cuya edición ve la luz con esta revista.
El impactante ciclo de cinco dípticos de aguafuertes, grabados digitalmente sobre planchas de metacrilato con dibujos creados igualmente mediante ordenador, es el resultado de un complejo y laborioso proceso de indagación estética y experimentación técnica y cromática.
A la extremada sutileza y exquisitez de estos grabados contribuyen por igual el dibujo y el color. Ambos convergen y se complementan dando lugar a una sintonía perfecta de geometrías curvilíneas y ondulantes que se materializan y hacen visibles por medio de los sorprendentes y refinados colores de la composición.
La serie Sintagma tornasolar, de muy limitada edición, ha sido estampada en la primavera de 2011 en el taller Quadrat Nou de Alain Chardon sobre papel BFK Rives Arches de 270 gr.
Other Artworks by Agustí: