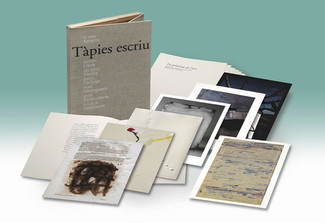 Click on the image for a more detailed view.
Varios autores
Tàpies escriu
, 2008
Format: 35 x 27 cm
Edition of 99 numbered and signed works
Order number: 26559
Normal price:
3.630,00 €
Special price for memberships:
Quote A:
3.448,50 €

( save 5% )

Quote B:
3.267,00 €

( save 10% )

Quote C:
2.904,00 €

( save 20% )

All prices include taxes
About this work:
En el 85 cumpleaños de uno de los artistas más relevantes del siglo XX, Círculo del Arte ofrece la publicación Tapies Escriu, en la que se rinde tributo al Tàpies escritor, se reconoce su dedicación a la palabra escrita, y en la que varios artistas destacados aportan obras, a modo de reconocimiento del legado de este artista universal. Se trata de una edición de bibliófilo, conmemorativa del 85 aniversario de Antoni Tàpies en la que se ha reunido una seleción de textos, de los 7 libros publicados de Tàpies y 6 obras de 6 destacados artistas que se declaran deudores de su obra. Entre ellos se encuentran Manel Esclusa, Joan Fontcuberta, Pere Formiguera, Antoni Llena, Soledad Sevilla y Eulalia Valldosera. Todas las obras están numeradas y firmadas. La selección de los textos ha sido realizada por Sam Abrams, quien a su vez firma un ensayo introductorio al libro. Son textos en catalán, tal y como vieron la luz originariamente, y cuentan con la traducción al castellano. La edición consta de 99 ejemplares, 70 de ellos destinadas a la venta numerados del 1/70 al 70/70, 28 en romanos no destinados a la venta y 1 ejemplar único destinado al homenajeado.