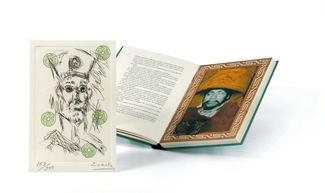 Click on the image for a more detailed view.
Ramón María del Valle-Inclán
Tirano Banderas
, 1998
Image format: 16 x 24 cm
Paper: Oria
Edition of 300 numbered and signed works
Artwork by Valle-Inclán and Gironella
Order number: 41410
Normal price:
160,00 €
Special price for memberships:
Quote A:
152,00 €

( save 5% )

Quote B:
144,00 €

( save 10% )

Quote C:
128,00 €

( save 20% )

All prices include taxes
About this work:
Gironella says about Tirano Banderas: &#171What I wanted to do with this work was to retrieve several real elements that Valle could have known during his visits to Mexico&#187. From these intentions originated impressive lithographic collages, in which the characters are resuscitated in metaphoric photographs, and mixed in the most complex pictorial contexts.


The book: with 34 full-page illustrations and 60 vignettes by Alberto Gironella. Binding: Hansaleinen cloth, with two stampings. 16 x 24 cm. 264 pages. Numbered edition of 300.

The case: lined with Hansaleinen cloth, with two stampings.

The print: Etching and silkscreen in 2 colours on Arches paper by Alberto Gironella. 15 x 23 cm. Numbered and signed edition of 300.