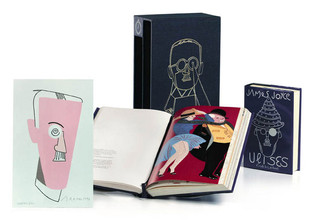 Click on the image for a more detailed view.
James Joyce
Ulises ilustrado + Ulises + Obra + Estuche
Edition of 150 numbered and signed works
Order number: 10215
Normal price:
1.200,00 €
Special price for memberships:
Quote A:
1.140,00 €

( save 5% )

Quote B:
1.080,00 €

( save 10% )

Quote C:
960,00 €

( save 20% )

All prices include taxes
About this work:
Here we have the interesting offer of a publishing initiative without precedent: one of the most transcendental works of literature of the Twentieth century, the famous novel Ulysses by James Joyce (Dublin, 1882-Zúrich, 1941).

Written as a stream of consciousness, Joyce's novel masterfully follows a single life in the day of one man, Leopold Bloom - on Thursday 16th June 1904 - from the time he gets up until the time he goes to bed. Using this narrative - and poetic - effect, which demands an almost heroic effort on the part of the translator, the Irish writer creates a portrait of Dublin life at the time.

Joyce's work, in a translation that we have selected by José Salas Subirats, was applauded by Jorge Luis Borges, the first translator of a passage of Ulysses into Spanish. Along with this magnificent volume, Círculo del Arte is offering its members, in a beautiful case, another work, which brings together the names of writer Julián Ríos and the painter Eduardo Arroyo. This is the book significantly entitled , Ulises ilustrado. Un recorrido visual y literario por la novela del siglo. (Ulysses Illustrated. A Visual and Literary Journey Through the Novel of the Century).



The two books: I. Illustrated Ulysses, with illustrations by Eduardo Arroyo, and a text by Julián Ríos, signed by both authors. Binding: Recordleinen cloth, with stampings on cover and spine. 20,5 x 31,5 cm. 540 pages. Numbered edition of 150, in Roman numerals. II: Ulysses, by James Joyce. Biding: Recordleinen cloth, with stampings on cover and spine. 14,5 x 22 cm. 832 pages.

The case: Lined with Recordleinen cloth, with three stampings.

The print: Portrait of James Joyce, by Eduardo Arroyo. Lithograph in 3 colours, numbered and signed. Arches paper. 29,5 x 18,5 cm.


Other Artworks by Joyce: