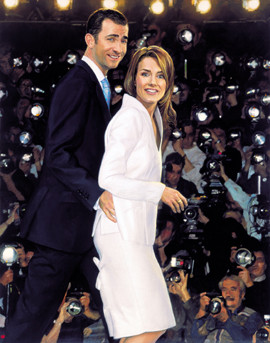 Click on the image for a more detailed view.
Gonzalo Goytisolo
Unidos hacia el futuro
, 2004
Lithograph in 11 colors
Image format: 66 x 52 cm
Paper: Arches 78 x 62 cm
Edition of 100 numbered and signed works
Order number: 17137
Normal price:
300,00 €
Special price for memberships:
Quote A:
285,00 €

( save 5% )

Quote B:
270,00 €

( save 10% )

Quote C:
240,00 €

( save 20% )

All prices include taxes
About this work:
The Prince of Asturias and Asturian journalist Letizia Ortiz have become the centre of the people's attention and also the sought-after object of the media. Goytisolo, far from an official portrait, has created an attractive image of a prince and princess of today, who are modern and close to us. As attractive as two cinema, sports or fashion stars, they appear enveloped in the glamorous atmosphere that is so appreciated these days. Using some photographic images and his typical hyperrealist technique Goytisolo creates a dynamic, fresh and evocative piece that perfectly expresses the style and personality of the future King and Queen of Spain.