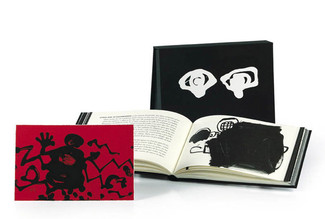 Click on the image for a more detailed view.
Guillermo Cabrera Infante
Vista del amanecer en el trópico
, 1998
Image format: 16 x 24 cm
Paper: Oria
Edition of 300 numbered and signed works
Artwork by Cabrera Infante and Amat
Order number: 3715
Normal price:
250,00 €
Special price for memberships:
Quote A:
237,50 €

( save 5% )

Quote B:
225,00 €

( save 10% )

Quote C:
200,00 €

( save 20% )

All prices include taxes
About this work:
&#171Vista del amanecer en el Trópico (View of Dawn in the Tropics) is, in fact, a type of story with a small s set against History, with a capital H. I wanted to demystify the history of Cuba&#187 Thus wrote the Cuban writer Guillermo Cabrera Infante (Gibara, Cuba, 1929 - London, 2005) about his own book.

Based in Europe since 1965 because of his opposition to Castro's regime, he created an important literary work, which helped him win the Cervantes Prize for Literature in 1997. The book's intense, disturbing atmosphere finds its counterpart in the forceful, moving illustrations by Frederic Amat, which he made after a trip to Cuba in 1995.

The book: with 47 illustrations by Frederic Amat. 16 x 24 cm. 208 pages. Numbered and signed edition of 300.

The case: lined with Iris cloth, with stamping.

The print: Silkscreen in 2 colours, on Velin Arches paper, by Frederic Amat. 15 x 23 cm. Numbered and signed.