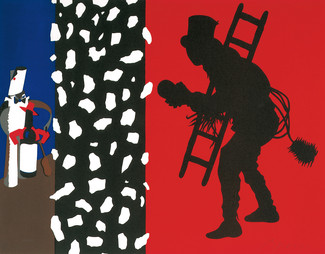 Click on the image for a more detailed view.
Eduardo Arroyo
Viva
, 1989
Lithograph in 4 colors
Image format: 50 x 65 cm
Paper: Rives-Bütten 50 x 65 cm
Edition of 150 numbered and signed works
Order number: 3913
Normal price:
1.525,00 €
Special price for memberships:
Quote A:
1.448,75 €

( save 5% )

Quote B:
1.372,50 €

( save 10% )

Quote C:
1.220,00 €

( save 20% )

All prices include taxes
About this work:
Fiesta and Viva are part of the splendid trilogy of lithographs entitled Quelques aspects de la vie (A Few Aspects of Life). These contain some of Arroyo's emblematic subjects: from the chimney sweep to the most common popular images of Iberian culture. These are works that represent the symbolism and skill of an artist who displays an unparalleled talent.





Other Artworks by Arroyo: