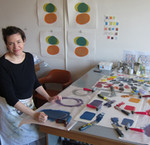 Laura Berman
Tras graduarse en Bellas Artes en el New York State College of Ceramics de la Alfred University, realizó Laura Berman el master de Bellas Artes en la Universidad de Tulane. Nacida en Barcelona en los años 70, esta creadora de imágenes estampadas a mano en formatos no convencionales se siente vinculada por un igual a la tradición y a la era hippie/disco. A ello atribuye su amor insaciable por colores saturados y diseños audaces. Su trabajo, orientado a interrelacionar y combinar formas diversas, está marcado por su historia nómada de constantes cambios y viajes. De hecho, Berman se encuentra cómoda en cualquier lugar, siempre que pueda tener a mano las colecciones de objetos personales que le sirven de inspiración.
Laura Berman ha expuesto su gráfica en numerosas galerías y museos del país y el extranjero y ha trabajado como artista visitante o artista residente en diversas instituciones de los Estados Unidos y Europa. En 2007 ha dirigido la Southern Graphics Council Conference, un certamen de gran proyección que atrajo a Kansas City a 1.200 artistas y amantes del grabado de todo el mundo. Los asistentes vivieron experiencias gráficas inéditas, conocieron impactantes exposiciones y participaron en coloquios y presentaciones dedicadas a explorar la relación del grabado con otros medios y entornos.
Berman ha ejercido la docencia en el Kansas City Art Institute KCAI desde 2002, y ha sido jefa de programas y presidenta interina del Departamento de Grabado de 2004 a 2008. Actualmente es profesora asociada de Grabado e imparte a estudiantes de segundo año cursos de grabado, artes del libro, fabricación de papel y serigrafía. El trabajo de la artista ha sido presentado también en importantes publicaciones, como The Book of Probes, de Marshall McLuhan y David Carson, Printmaking at the Edge, de Richard Noyce, y A Survey of Contemporary Printmaking, de Ehlers, Ehlbeck and Muise.