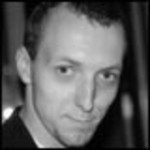 Marc Taeger
After having lived in Milan, Naples (Italy), Schriesheim (Germany) and Lisbon (Portugal),
Marc Taeger
(Berne, Switzerland, 1963) moved to Barcelona in 1975, one month before General Franco's death. He began his graphic design studies in Barcelona, which he finished in Trier (Germany) in 1987. Nowadays he works as a free-lance designer for the press and for advertisement agencies.
His work, which includes computer animation, painting, sculptrure and graphic work, has been exhibited in many countries all over the world such as Spain, Germany, France and China.