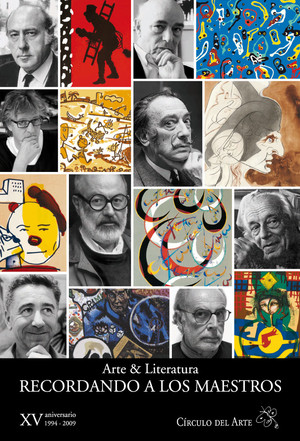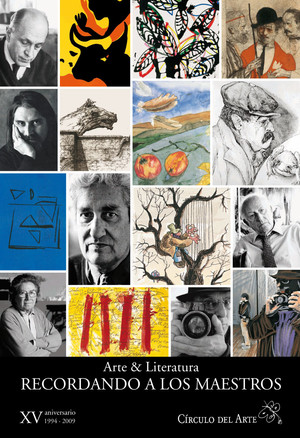 19/09/11
ART & LITERATURE. REMEMBERING THE MASTERS
15th ANIVERSARY OF CÍRCULO DEL ARTE
1994 – 2009
THE MIRACLE OF BREAD AND FISH

Commemorating the 15th anniversary of Círculo del Arte, this show is dedicated to a group of artists whose artworks have been part of the programming of the club since the beginning of our activity in 1994. The collaborations with these artists were extremely fruitful and resulted in the production of numerous unforgettable artworks, books, exhibits and cultural initiatives. Several of these artists even personally supported the new project, contributing, not only with artworks, but also with valuable advice and involvement in the orientation of our artistic programs and catalogues.
Out of the artists that collaborated from the onset with the club, the names that stand out the most are Antonio Saura and Eduardo Arroyo, who left a deeply felt imprint on the early history of Círculo del Arte. Essential were also the contributions by Rafael Alberti, Günter Grass, Albert Rafols-Casamada, Alberto Gironella, José Hernández, Eduardo Arranz-Bravo, Miguel Condé, Jorge Castillo, Javier Pagola or Paul Wunderlich. Special prominence in the programs of the club was given to the emblematic engravings of Francisco Bores and Salvador Dalí, the result of the cooperation between CdA and manuspresse in Germany.
All the artists involved in the new project from the beginning shared with the founders of the club the conviction that prints and artists´ books are – by their very nature of being both original work and multiple– an ideal medium to turn art into an accessible good for all. Engraving techniques and artists´ books made it possible – like in the wonderful multiplication of bread and fish – to realize the aspiration of making authentic art reach a society needy of it.
Encouraged by this idea, the artists mentioned above contributed to creating a rich repertoire of valuable works, in limited editions, numbered and signed. A little after, our programme of prints and books was expanded with the inclusion of small format sculpture and collectors´ photography. The first exponent of photographic art in the club was the filmmaker and photographer Carlos Saura, still linked today with the Círculo del Arte.
The exhibit Art & Literature - Remembering the Masters gives tribute to these figures that, with their artworks and presence, have starred in decisive stages of the Círculo´s itinerary. At the same time, it gives tribute to our members for sharing with us a passion for art and the conviction that art has the ability to give more sense to the adventure of living