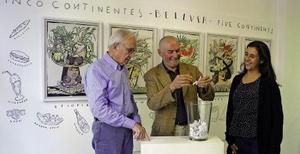 22/11/13
Contest Results "Five Continents Suite: Food and Women of the World"
During spring and summer 2013, Círculo del Arte has encouraged the club members and visitors to our venues in Barcelona to participate in the contest Five Continents: Food and Women of the World. We asked participants to locate 20 food we proposed them in the different works of Fernando Bellver.
These are the correct answers:
1. Baguette: Europa
2. Hamburger: Oceanía
3. Milkshake: Oceanía
4. Sushi: Asia
5. Banana Split: Oceanía
6. Champagne: Europa
7. Pineapple: América
8. Croissant: Europa
9. Tempura: Asia
10. Chá: África
11. Donuts: Oceanía
12. Batata: África
13. Sashimi: Asia
14. Coconut: África
15. Tapioca: África
16. Watermelon: América
17. Banana: América
18. Sake: Asia
19. Gruyère cheese: Europa
20. Sugarcane: África

Participants who have obtained at least 10 correct answers have been entered into the draw for 10 lithographs in the series. These are the names of the lucky ones:
1. Vincent Angelicchio
2. Bety Avila
3. Mariana Barros
4. Nelson Boeira
5. Milan Chevrolet
6. Mario Díaz Hernández
7. Briant Kyle
8. Irene Linders
9. Paz Soler Masota
10. Frank van Oosten
All participants, including the winners of the draw, also have a special prize and can enjoy two other major advantages:
- enjoy 20, 30, 40 o 50 % discount on the purchase of any lithograph in the series depending on the correct answers obtained
- become a member of Círculo del Arte and receive a welcome gift of an original lithograph dedicated by the artist.
If you want to know what was your score, please contact us by email at info@circulodelarte.com or call 93 268 88 20 and enjoy the great benefits we offer!
Thank you, friends of the club, for your participation!