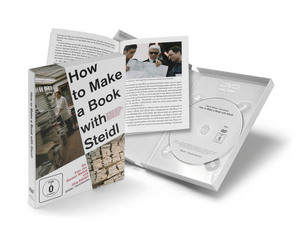 27/08/14
Regalo DVD How to make a book with Steidl
Para celebrar nuestro XX Aniversario, por la compra simultánea de 5 o más libros del sello Steidl regalamos el fascinante documental
de 90 minutos How to Make a Book with Steidl, la más importante editorial de libros de fotografía a nivel mundial.
El documental, emitido en los canales 3sat y ZDF, ha sido galardonado en 2010 con la Paloma de Oro de Leipzig al mejor documental y en 2011 con diversos premios de cine documental.
El documental ha sido dirigido por Gereon Wetzel y Jorg Adolph; revelando en un film de 88 minutos el proceso creativo de este impresionante editor. El relato audiovisual está acompañado por una banda sonora de The new Lost City Ramblers y ha sido grabado en el estilo de cinema directo.
Este fascinante documento es protagonizado por Gerhard Steidl una pléiade de fotógrafos y creadores, entre ellos Martin Parr, Joel Sternfeld, Robert Frank, Ed Ruscha, Karl Lagerfeld, Günter Grass, Robert Adams y Jeff Wall. (Con subtítulos en castellano).
Para ver la gran oferta de libros de esta prestigiosa editorial, haga click aquí.